No. 106
General Electric Steeple Cab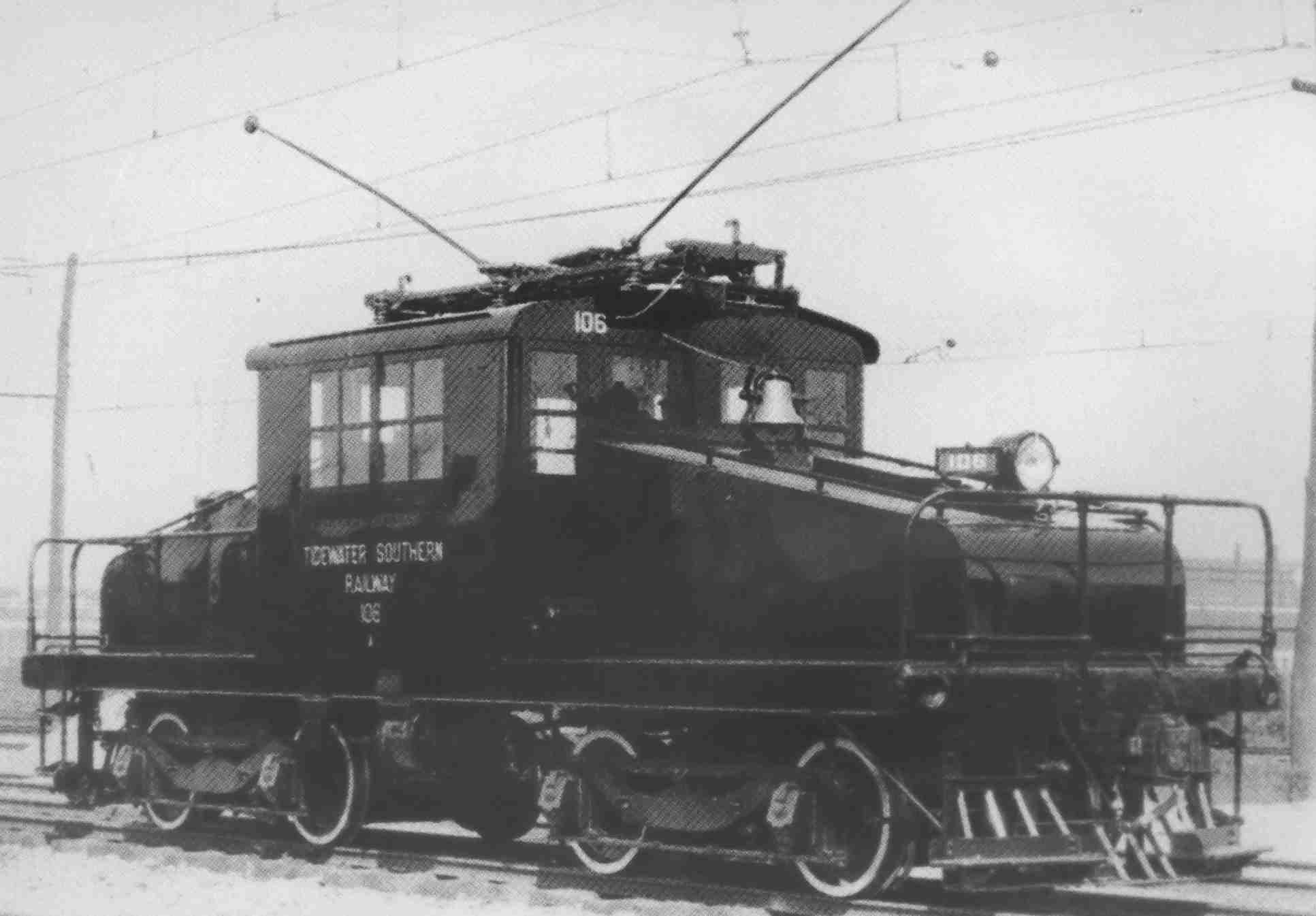 Tidewater Southern Railway No. 106 as delivered from General Electric in 1921.
Electric locomotive No.106 (Builder #8434) was an 820 h.p. steeple cab road engine built new in 1921 by General Electric for the Tidewater Southern Railway.  The T.S. ordered the locomotive in response to the increased weight of the freight trains.  After all remaining overhead electrification was removed from the T.S. in 1948, T.S. No. 106 was sold to the Sacramento Northern Railway and renumbered to S.N. No. 670, where it remained until scrapped in 1956.
Tidewater Southern No. 106 used GE 251A motors and rode on GE RM63B trucks. The locomotive was leased to the S.N. during World War II (in exchange for the use of S.N. box motors No. 601 and No. 602 at Modesto).  After the war, T.S. No. 106 briefly went back to Modesto, but with the end of T.S. electrification in 1948 it was sold outright to the SN.  As Sacramento Northern No. 670, the locomotive was based in Oakland, California, and worked over the hill to West Pittsburg.  S.N. No. 670 was taken out of service when ferry service ended in 1954, but was stored at Sacramento for possible later use
Besides her trucks, No. 670 had several visual differences.  She had no roof air tanks, and one window on each side had been plated over by the Tidewater Southern.  Originally built with her compressors in the cab, they were moved below the frame like the other GE machines during T.S. No. 106's leased time on the S.N. (which probably pleased the T.S. crews greatly when the locomotive came home).  S.N. No. 670's controls were set up for switching rather than road use, the engineer's seat was backless and uncomfortable, and the RM63B trucks rode roughly at higher speeds; thus, most of the S.N. engineers hated this locomotive.  Although No. 670 weighed about the same as the other GEs, and was rated for the same horsepower, crews claimed No. 670 could not pull as much.  Nobody was ever able to figure out why.  For some unknown reason, S.N. No. 670 was the only S.N. steeple cab GE locomotive not repainted with orange scare stripes after the war years, and due to its black color was nicknamed "The Black Widow" by the crews.
Sacramento Northern No. 670's (T.S. No. 106) RM63B trucks were slid under S.N. No. 654, and may still be seen today under this locomotive at the Western Railroad Museum.  S.N. No. 670 was sold for scrap in late 1956, riding on S.N. No. 654's 105A trucks.  (Information attributed to "General Electric Steeple Cabs on the Sacramento Northern" by Garth G. Groff.)
(Photos: Top - Norman Clark, 1921.  Second - Guy Dunscomb, November 1947.  Third - Bill Volkmer, location and date unknown.  Fourth - Guy Dunscomb, August 1947.)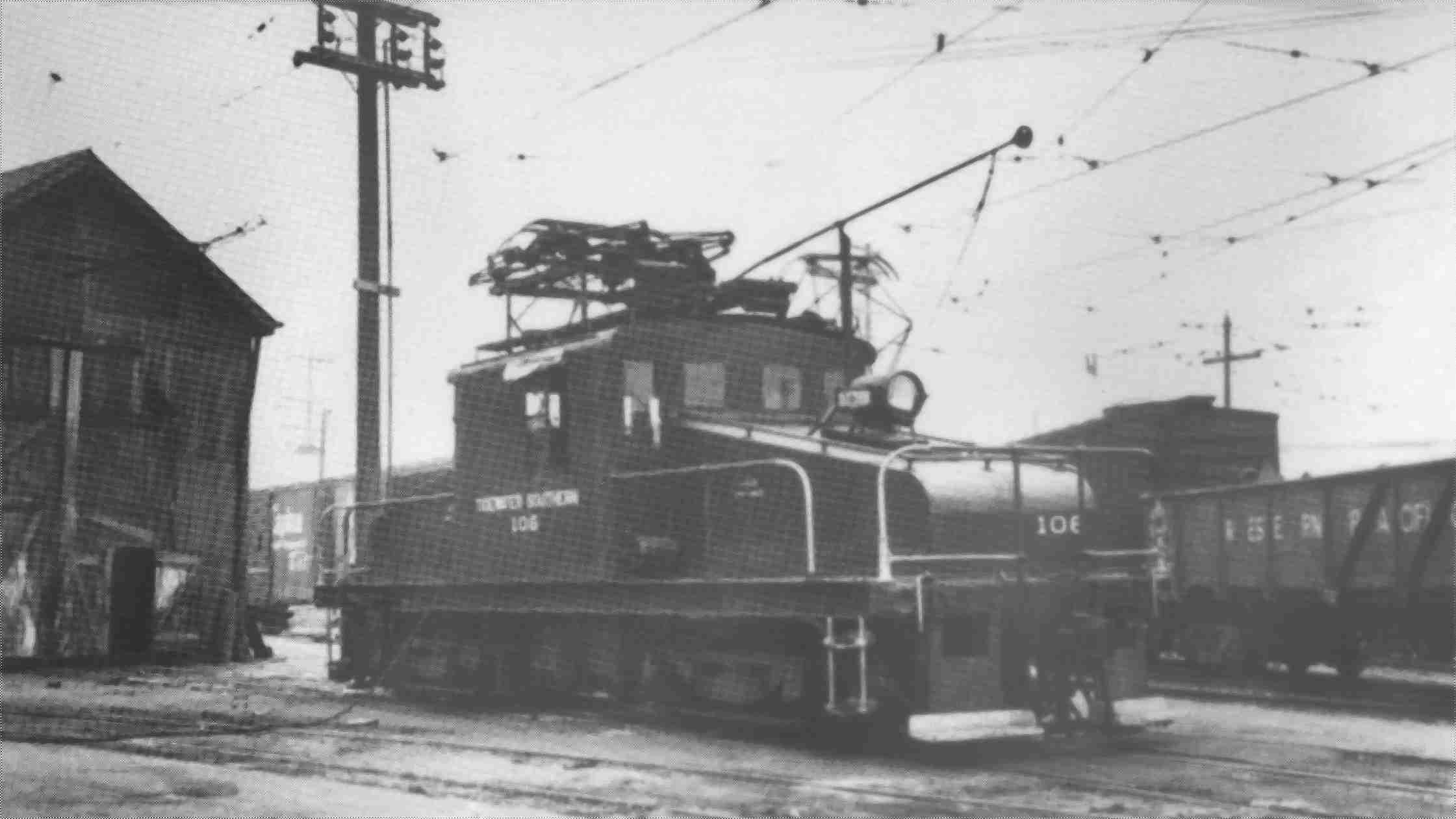 T.S. No. 106 in November 1947 at 40th and Shafter in W.P. Oakland yard, with pantograph and trolley pole.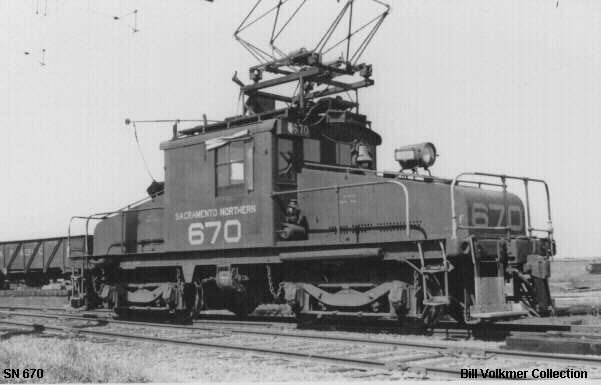 T.S. No. 106 renumbered to Sacramento Northern No. 670.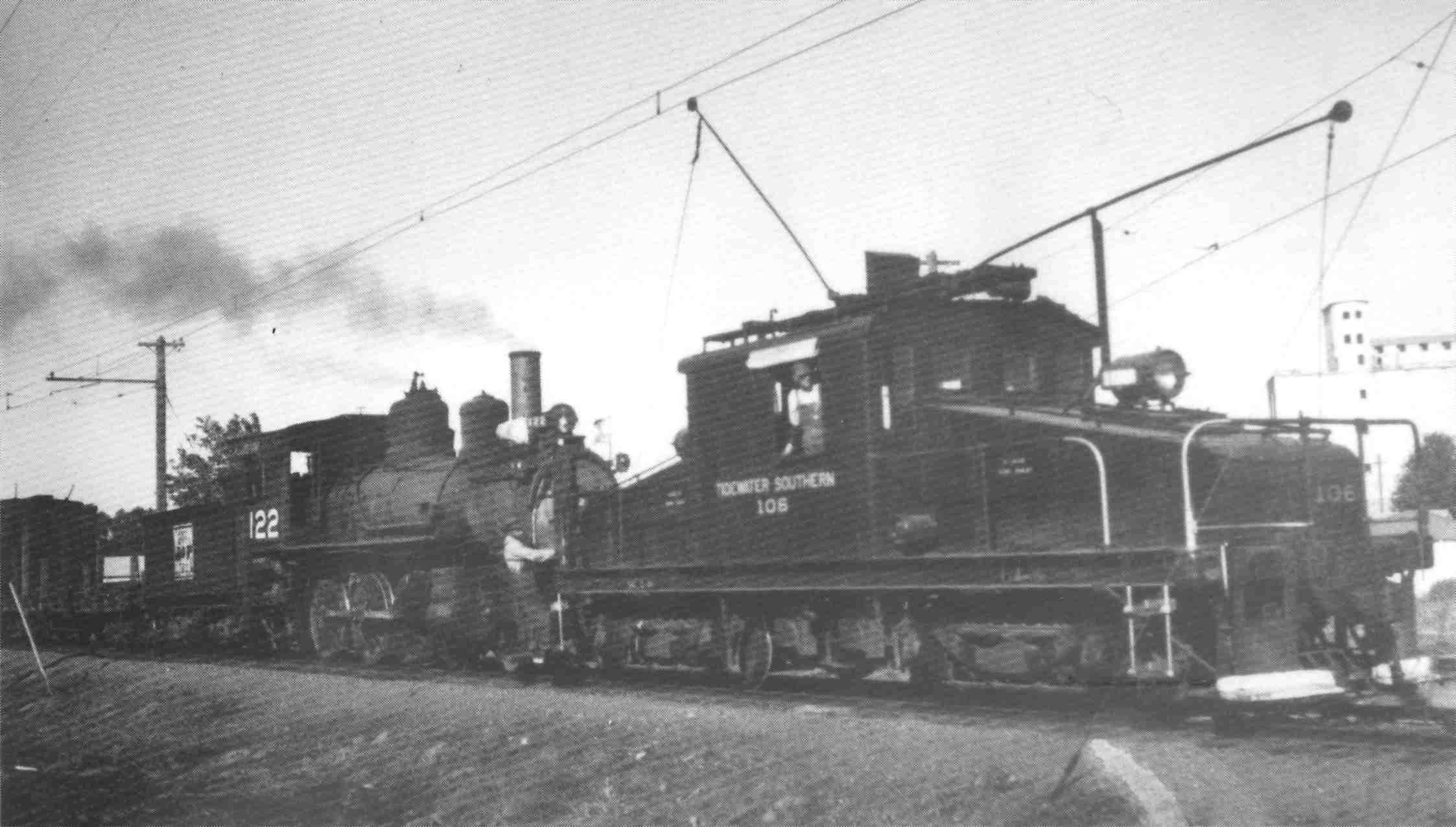 T.S. No. 106 northbound dragging W.P. No. 122 through Modesto nearing Aurora in August 1947.