Brief History of the Tidewater Southern Railway
The Tidewater Southern Railway Company had its official beginning on March 11, 1912, with the consolidation of the Tidewater and Southern Railroad Company (incorporated on October 4, 1910) and the Tidewater and Southern Transit Company (incorporated on February 16, 1912).  The two predecessor companies commenced construction of the Tidewater Southern Railway (T.S.) because of the Southern Pacific Railroad monopoly on shipping rates and transportation service in the region.  The Tidewater Southern Railway would provide the local farmers and industries along the Central Valley a less expensive and timely means of transporting their products.  The grand plan was to build the railroad down the Central Valley from Stockton to Bakersfield, and eventually connect with Los Angeles basin railroads.  The T.S. mainline trackage was however only completed to Hilmar in Merced County, with roadbed graded another two miles to the Merced River; there were no funds to construct a bridge across the river.  Branch lines were constructed to Turlock in 1916 and to Manteca in 1918.
From the onset the railroad utilized overhead electrified lines and three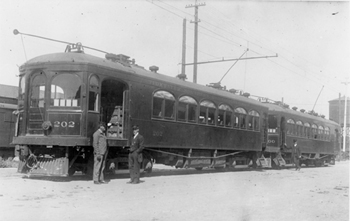 interurban cars (TS 200, 201, and 202), extending between Modesto and Stockton (and on the Manteca Branch).  The electric overhead lines were removed in 1932, and steam locos replaced the electric locos except on Modesto's Ninth Street.  Steam locos were not allowed to operate on 9th Street because of the excessive smoke.  Passenger service on the electric interurban rail line flourished only for a short time, because good quality roads paralleled most of the railroad, and the increased use of the automobile was becoming more prevalent.  Interurban passenger service was reduced to 22 trains in 1922, and to 8 trains in 1932.  On May 26, 1932 passenger service ceased utilizing the three interurban cars.  The trackage to downtown Stockton and the Stockton Port were removed shortly thereafter.
Freight traffic continued to be plentiful and profitable on the Tidewater due to the abundance of fruit and vegetable farming and related industries in the region.  Many packing sheds operated by area farms were located along the main line and in Turlock and downtown Manteca.  The last packing shed on the rail line was located at Carrolton (between Manteca and Escalon), which was destroyed in 1995 following a fire of unknown origin.
In 1983, the Tidewater Southern Railway, along with the Western Pacific Railroad and the Sacramento Northern Railway, was acquired by the Union Pacific Railroad.  All of the Tidewater Southern rail equipment was retired (scraped) or sold.  Today the railroad is no longer a visible landmark in our region, but portions of the trackage from Stockton to Turlock continue in use as a feeder line for the Union Pacific.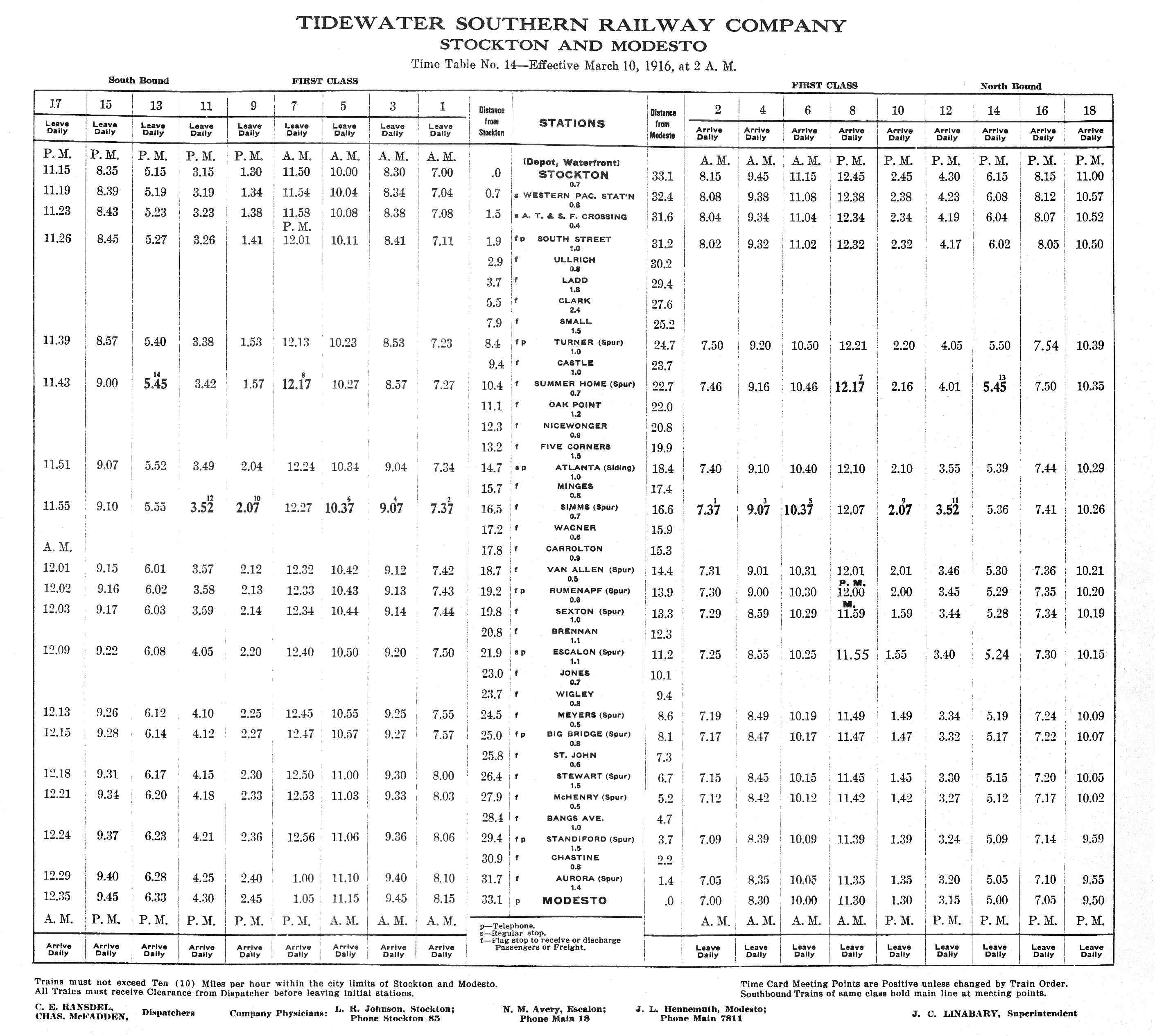 This web page is under continued construction, please check back soon!